The Best All-In-One Hand Massager!
The Golden Hand™ Massager provides comprehensive massage therapy to relieve arthritis and carpal tunnel symptoms, as well as fatigued and sore hands in general. Revitalizing air compression cells envelop the entire hand, pulsing rhythmically to apply gradual pressure, while gently stretching the palm and fingers. Feel a rush of gratifying relief, while being caressed by soothing heat spreading from the back of your hand through to your fingers and palm.
Electric Hand Massager: Ergonomically designed hand massager envelops the whole hand for effective compression therapy
Small Massage Nodes: Stimulate reflexology pressure points on the palm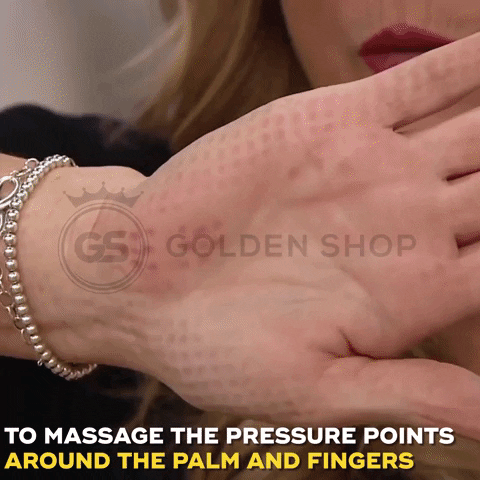 Air Compressions:

The 15-layer airbag design

 rhythmically pressurizes the entire hand from the wrist through to the palm and fingers for maximum comfort.
Vibrations: 

In addition to air massage, vibration massage is added to the palm of your hand
Heat Therapy: Gentle heating promotes circulation, reduces pain, and relieves swelling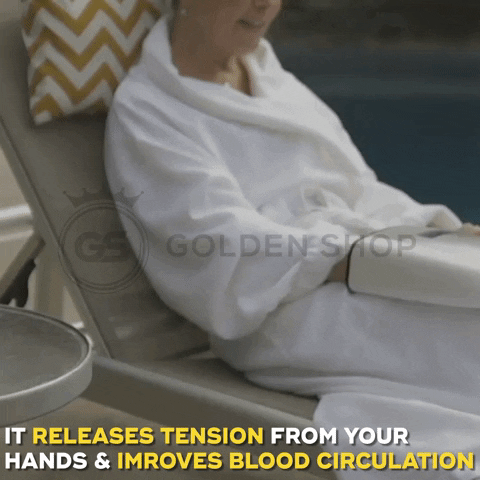 Massage Anywhere: Compact and portable compression massager ideal for hardworking hands that get tight, sore, and cramps
Arthritis and Carpal Tunnel Relief: Alleviate arthritis pain, minimize numbness and stiffness, and reduce symptoms of carpal tunnel syndrome
Modes & Intensity: Personalize your massage with 6 automatic modes and 6 intensity levels
Cordless Lithium-Ion Battery: Never needs to be replaced and is rechargeable using a USB cord (included)
𝐖𝐇𝐈𝐋𝐄 𝐎𝐓𝐇𝐄𝐑 𝐇𝐀𝐍𝐃 𝐌𝐀𝐒𝐒𝐀𝐆𝐄𝐑𝐒 offer only compression without kneading, hurt your sore fingers due to strong pressure or they just break after a few weeks, the Golden Hand™ Pressure Point Therapy Massager is 100% adjustable for your own needs without causing any extra pain. The 6 unique levels of massage & intensity combine compression, heat, kneading, and vibration to offer you the closest feeling to a real hand massage whenever you need it.
𝐘𝐎𝐔 𝐃𝐄𝐒𝐄𝐑𝐕𝐄 𝐏𝐀𝐈𝐍𝐋𝐄𝐒𝐒 & 𝐑𝐄𝐋𝐀𝐗𝐈𝐍𝐆 𝐃𝐀𝐘𝐒! You want to get rid of finger numbness, joint soreness, relieve the pain from arthritis or carpal tunnel and relax your hand after a long day of working, we get it. We have designed the most efficient finger & palm massager with heat for your needs. No matter if you do manual work, play an instrument, type constantly at work, or play sports, you will feel its amazing effects on your tired hands and enjoy a relaxing time with this handheld massager.
SPECIFICATIONS:
Size: 29.5 x 11.5 x 16cm
Voltage: 110-240V
Power: 5W
Battery Type: 4 * AA Batteries (Not Included)
INCLUDED:
1x Golden Hand™ Massager
1x USB Charge Cable
1x User Manual